Our mission is to inspire and supply joyful experiences with wine.
Verve is a leading wine retailer for quality-seeking and curious drinkers. We dig wine made by small and limited production winemakers and skilled craftsmen whose connection to the land is just as important as what goes into the bottle. Our commitment to good wine in all ways means that for us, wine can be both fun and fancy, but never intimidating or exclusionary. Over 50K (and growing) wine drinkers trust us for everyday bottles, collection-worthy gems, inspiration for hanging out with friends, and everything in between. Our digital platform offers nationwide shipping and fast and convenient delivery from our shops in Tribeca, NYC, Pac Heights, SF (named Best Designed Wine Shop in the US) and Lincoln Park, Chicago.
OUR STORY
Take it back to 1937 - the year Verve Magazine debuted in Paris with a cover painted by Henri Matisse. Verve Magazine threw the spotlight on artists who were doing the coolest things out there - without any of the usual pretension. That's what inspired us to start Verve Wine in 2016. To us - guys who love to drink great wine, the best part of wine is sharing in the discovery of it all.  We wanted Verve Wine to not simply be a place to buy wine but also a source of inspiration to a community of fun, curious drinkers just like us. Four years in and we're still curious and still having a ton of fun.
- Dustin & Derrick
NYT critic Eric Asimov was spot on when he said that we're currently in a "golden era of wine" - there's never been more wine being made in more far flung places across the globe. The downside of so many options, however, is that even snagging a bottle of wine for your Tuesday night slice of pizza has become a daunting task, never mind attempting to master the unending slew of terms, types of grapes, and general stuff to know. We're here to help you cut through the noise and get right to bottles you'll dig by editing our selection to the best of what the wine world has to offer - with stories of some of the most inspiring winemakers out there along the way. 
Curious drinkers welcome
Whether you're adding to a life-long wine collection or just filling in a few holes in your kitchen wine rack, there's always something new to find at Verve Wine. In fact, a lot of what you'll find in our selection, you won't be able to find elsewhere -- new releases from super limited 'natural' producers, highly sought-after collectibles, and exclusive bottles made just for us. On top of that, we drop cool stories on our blog and in our newsletter that - we hope - will inspire your next delicious experience with wine, no matter your level of expertise.
New selections are added to the site daily and we publish a new story to our blog every Sunday. 
Subscribe
We've got your back
ANTI-SNOBBERY SERVICE
No intimidation or pretension included.
TOP-NOTCH SELECTION
Wines we know you'll dig.
GOOD WINE, DELIVERED
Free Delivery $150+  |  Flat Rate Shipping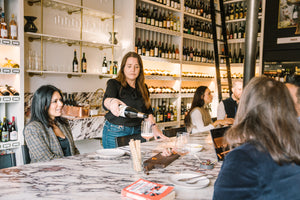 Drinking good wine should be both compelling and easy.
Master sommelier Dustin Wilson and his talented teams on both coasts — in New York and San Francisco — have brought to retail the friendly, no-bad-choices approach to wine that we all wish for in restaurants.

Resy
This is hands down, pound for pound the best place in Chicago. Retail wine is amazing and well priced with humble and unparalleled knowledge.

Nicholas B
Tell them your price point and give them a sense of what you'd like and the staff will always steer you in the right direction.

Jolene H
A dedicated and knowledgeable staff.. a go-to place for wine lovers at all levels.

Woodland W
Between the always interesting emails and the way the website is set up, I feel like I can put a case of wine together pretty easily. I'm a fan. 

Seth M